When the time comes to clear out the cluttered house of a hoarder, it can be hugely overwhelming. It's quite understandable that you will have a range of questions in such a scenario.

The Cluttered House Clearance company are fully licensed with the UK environment agency (Environment Agency Waste Carrier License NO #: CBDU284870) Hoarded house before and after pictures

Allow The Cluttered House Clearance Company to answer these queries for you. Below, you'll find a list of the most often asked questions that we receive about our cluttered and hoarded house clearance services. If you have a further question that isn't covered, just get in touch!
How much does your hoarded house clearance services cost?
This depends on how much work is involved in the job. Some houses are more cluttered than others, and thus require longer hours and additional team members.
Once we have visited the property, we will provide a full quote based on the customer's needs. This quote will be completely transparent, and there will be no unexpected costs once the job is complete. The quote you agree will be the net price that you pay. Read our guide: How Much Does Hoarded House Clearance Cost
How do I get A quote from The Cluttered House Clearance Company?
Simply get in touch to get the ball rolling! You can call us on 07731 383671.
You are welcome to email us photographs using the email address clutteredclearances@yahoo.com, to identify the severity of the clutter to be cleared or simply call us to explain your situation.
Once we have spoken with you, we will provide a detailed and transparent quote. Our promise to you is that we will not vary or change this quote. If you require any kind of clarification, just ask.
What are your standard working hours?
Our business hours are 8am to 6pm, 7 days per week.
How much notice do you need to start a decluttering house clearance?
We can typically start work with as little s 24 hours notice, depending on how busy our teams are.
Do you have insurance?
Yes, we are fully insured and licensed.
What areas do you operate in providing hoarders house de-cluttering services?
We operate all over the UK and Scotland. Just get in touch and talk to one of our qualified team members.
Do I need to do anything before you arrive?
No, it is best to leave everything to us. We will ask upon booking if there is any specific items you wish to be retrieved and these will be placed to one side.
What services do you offer?
The Cluttered House Clearance Company offers a full clearance and cleaning services of a cluttered property, including those occupied by hoarders. Our team will assess the property, safely and efficiently clear it of all contents, and provide a deep clean from top to bottom.
Can you make a hoarder's property habitable again?
By the time our team has finished their work, the property will be fully habitable. Please be aware, however, that The Cluttered House Clearance Company are not licensed plumbers, electricians or builders. We will identify structural problems and safety hazards where possible, but will not be permitted to fix them.
How long will it take to declutter a hoarder's house?
This depends entirely on the size of the task at hand. Naturally, this means that it will be beneficial for us to gain access to the property at your earliest convenience. You do not need to be there; we are happy to collect a key from a neighbour if you are comfortable with this.
Are your team male or female?
We employ both male and female staff. If you have a special request, please let us know, and we will accommodate as required.
Will I need to pay a deposit before you start work?
No, we do not charge anything before our team gets to work. All invoices are settled in full, once the customer has confirmed that they are happy with the service that we have provided.
If you are not present and unable to attend the property, we will send a range of photographs. We're confident that you will be astonished with the results achieved by our experienced cluttered house clearance specialists!
How do I pay you for your service?
We will issue you an invoice that can be settled by debit card. If you prefer, you can also settle your account via bank transfer. Our account details will be found in the invoice that we provide. We regret to say that we cannot accept personal cheques or credit card payments.
Can I help your team to clear the house?
Cluttered and hoarded houses can be very dangerous, and our team are experienced and trained in manual handling regulations. As our insurance policy will not cover you, we cannot protect you from any slips, trips and falls that may occur, or any potential injury. As a result, while you are welcome to remain at the site while our team works, we politely ask that you do not involve yourself in the decluttering process.
I want to keep some items in the home, Is that a problem?
We work to your instruction only. We will remove everything from a home, and only retain items that you specifically ask us to keep or items that appear to be of personal value or important documentation.
Will you remove bulky items, such as a piano?
Yes, we will happily remove these items as part of our service.
Will you remove carpets from a home?
Yes, we will clear all carpets, or a single carpet. Just let us know your preference.
Will you remove garden waste?
Yes, garden waste is removed as part of our service. There may be an additional charge if expenses are to be incurred by the local authority when we take this for recycling. This will be discussed up-front, and added to your initial quote.
Will you remove a vehicle from the property?
Yes, we remove cars, caravans and motorbikes on a regular basis for our clients, we are prepared to remove any vehicle from a property as part of our agreed price.
Is there anything you will not remove from the property?
Legally, we are not entitled to remove or handle hazardous chemicals. We will, however, work with a local authority to ensure that it is completed safely and efficiently.
Is there any job that you will not take?
No, we will take on any hoarded house or decluttering job, no matter how big or small. However, we may need to bring in additional help before doing so. See our Hoarded house before and after pictures
I don't want my neighbours to know about this, are you subtle?
Yes. We use unmarked vans that do not display our company name for complete discretion, we will also not engage with nosy neighbours.
What size vans do you use?

We use lo-loader Luton furniture vans. The dimensions of these comprise of:
Internal Length (A): 4.1m / 13ft 7in
Internal Width (F): 2.1m / 6ft 10in
Internal Height (C): 2.5m / 8ft 2in
Payload: 1350kg
Cubic Capacity: 22m3
These substantial vans ensure that we can work quickly and efficiently, without needing to make multiple, avoidable journeys.
The property doesn't have parking, is that a problem?
No, we are content to park elsewhere and move the items accordingly. Naturally, however, this will impact on the time it takes to complete decluttering the house.
Will you just clean a hoarders house without moving anything?
Sorry, no. While we clean homes after they have been decluttered, we do not offer cleaning services alone.
Are you interested in purchasing furniture from a hoarders house clearance?
No. The Cluttered House Clearance Company is only interested in removing items, not accruing them. If there is an item that you wish to sell, we recommend removing it before we start our work.
What happens if you find a valuable items during a hoarded house clearance?
Anything that appears to be valuable will be set aside during the decluttering process, and offered to the customer. If they do not want the item, it will be recycled or donated to charity.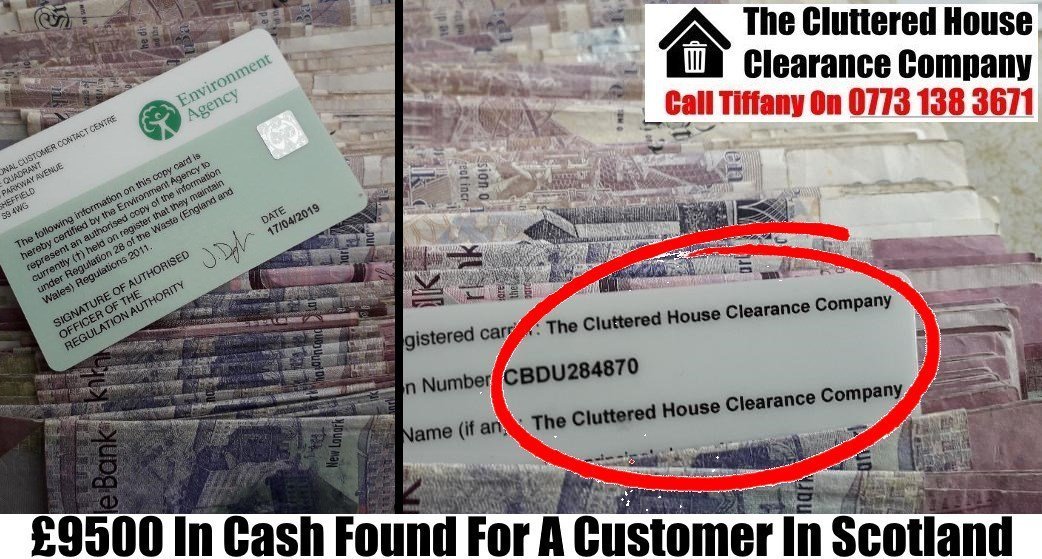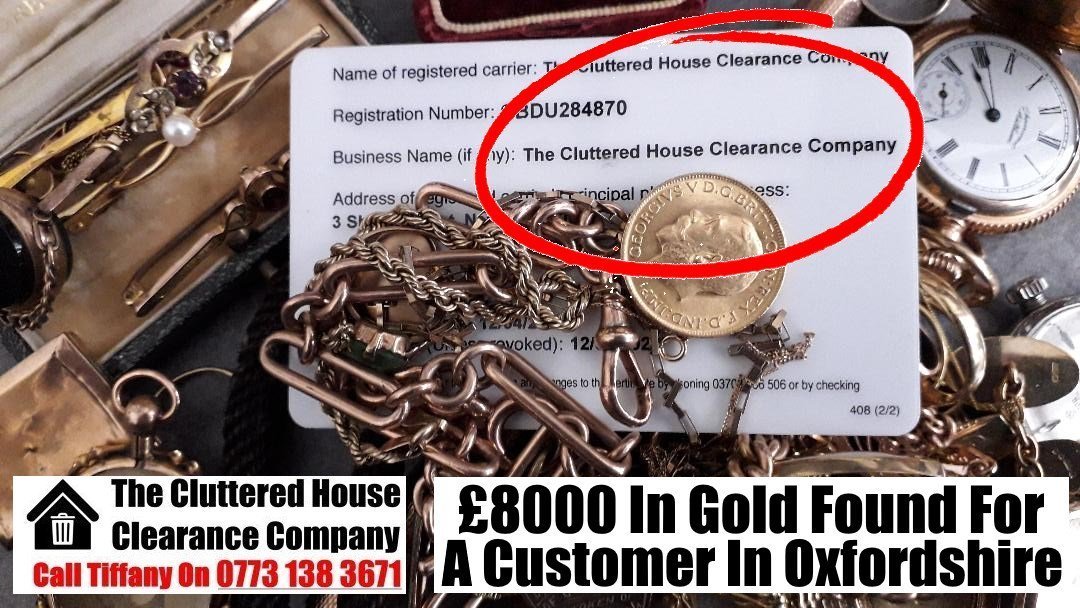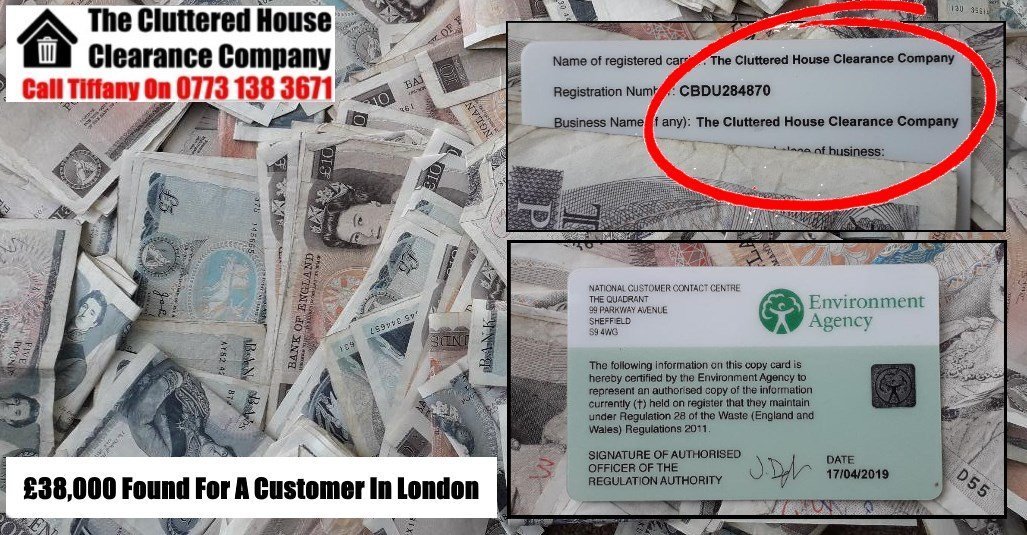 FREE Hoarded House Clearance Asset Recovery Service…

Our pre house clearance asset recovery service is 100% FREE. If we find NOTHING in the property then we ourselves expect nothing, no charges, no fees. We only get paid if we locate items of value and of course if you ask us to undertake the actual clearance after the search has been completed.

Do you qualify for a FREE house clearance, a complete house clearance that costs you no money?

Before calling any house clearance company, please take a minute or two to read our page about our FREE Hoarded Houses Clearance Asset Recovery Service.
What happens if you find important documents in a hoarded house?
All documentation is set aside, and assessed. Legal documents will be offered to the customer. This could include property deeds, birth and death certificates, wills, and legal correspondence. Anything unwanted will be disposed of safely.
What will you do with the items that you remove?
Once items are removed, they are returned to the customer or ethically and responsibly disposed of. We are members of the Anti Fly Tipping Association, so you can be assured that your items will be disposed of ethically.
We recycle as much as possible. If an item is usable or salvageable, it will be offered to charity. If not, but a local recycling centre accepts the items, we will ensure they are recycled. Items will only be deposited in a recognised and authorised landfill if strictly necessary.
Can you access a home if I cannot?
Unfortunately not. If you wish to book us to declutter a property, we will need clear and direct access. If you do not have a key, we will not force our way into a property. We suggest you contact your local authority.
Will you sign a non-disclosure agreement before starting work?
Of course. We understand that you may be concerned about the nature of any paperwork we may uncover, or that you may wish not to reveal our involvement. We will be happy to sign a non-disclosure agreement to this end, with the usual legal caveats.
If you still have a question, don't hesitate to get in touch with The Cluttered House Clearance Company. We can be reached by telephone on 07731 383671, or by email on clutteredclearances@yahoo.com. All queries will be handled with the utmost sensitivity and respect.
Clearing a hoarder's house? The Cluttered House Clearance Company offer professional compulsive hoarding decluttering services in the UK. Specialists in cluttered hoarder house clearance & cleaning.

The Cluttered House Clearance company are fully licensed with the UK environment agency (Environment Agency Waste Carrier License NO #: CBDU284870), as well as being fully insured to undertake house clearance, we are also members of AFTA.ORG.UK the Anti Fly Tipping Association

Hoarded house before and after pictures | Genuine customer comments | Hoarded house clearance costs
The Cluttered House Clearance Company
Average rating:
0 reviews